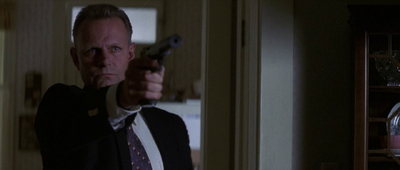 Heckler & Koch is a German arms manufacturing company that produces firearms for military and civilian law enforcement use around the world.
Pistols
H&K P7M8
The P7M8 is a 9mm handgun used as a sidearm by military and police forces around the world, manufactured mainly in Germany, as well as the United States under license. On June 7, 1998, the United States' National Security Agency department known as Division sent one of their agents - Peter Burrell - to Chicago with orders to kill nine year-old autistic savant Simon Lynch, as well as anyone who got in his way of accomplishing that goal. The boy's parents, Martin and Jenny Lynch, became Burrell's first victims at the end of his silenced P7, which he also used to set up the deaths to appear to arriving police as a murder-suicide.
H&K USP Tactical
Burrell would also use a USP Tactical against Simon and his self-appointed guardian, FBI Special Agent Art Jeffries late that night both at Concordia Hospital and while fleeing from Burrell and his fellow agent Shayes' pursuit on the Kennedy Expressway. Two days later, on June 9, Burrell again struck, killing Division cryptologist Dean Crandell, who was meeting with Jeffries in Chicago to reveal the reason for what was happening to Simon and why they were being chased. Late that same evening, Crandell's friend and co-worker - Leo Pedranski - was killed by Burrell at his apartment in Washington, D.C. as he was typing out letters to be delivered to Jeffries and the Senate Oversight Committee.
SMGs
Ad blocker interference detected!
Wikia is a free-to-use site that makes money from advertising. We have a modified experience for viewers using ad blockers

Wikia is not accessible if you've made further modifications. Remove the custom ad blocker rule(s) and the page will load as expected.